Mobile App Card Controls place the power to protect your consumer debit Mastercard® in your hands. Protect your cards directly from your phone.
Turn your cards off and on*
Control where your cards can be used --geographically and/or by channel (in-store, online, mobile, ATM, etc.)
Receive instant alerts*
View recent transactions
Accessing Card Controls
Begin by selecting the More or "+" (Plus sign) menu button in the County Bank Mobile Banking application.
The More screen appears. Select Card Controls to continue.
The Card Controls screen appears showing an indicator that card information is being loaded.
When all eligible cards are located they will display in a list on the Card Controls screen.
Begin managing their transaction settings through the Card Controls feature.
Select a card to view its details.
The selected card appears showing the various Card Control preference sections. Selecting any of the preferences will give access to those controls.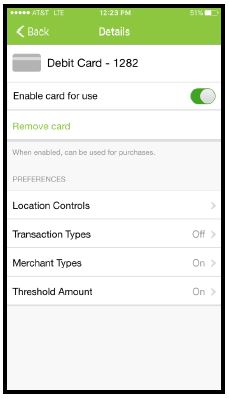 Accessing Alert Controls
Begin by selecting the More or "+" (Plus sign) menu button in the County Bank Mobile Banking application.
The More screen appears. Select Alerts to continue.
The Alerts screen appears. Selects Cards to continue.
A list of cards that have been added to the Card Controls feature appears. Select a card to maintain the alerts for that card.
The user is brought to a screen indicating which transactions are enabled for the card. By default, All Transactions are enabled.
Modify this by selecting the All Transactions option.
A screen appears with the following options:

None
All Transactions
Custom
A blue checkmark indicates which option is selected.
Disable Card Control alerts for the card by selecting None.
Select Custom to view customized alert options.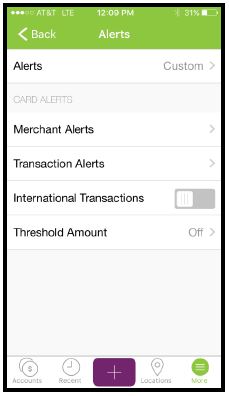 If you have any questions or need assistance please visit your local branch or call us at 302-226-9800.
*NOTE:

Turning off your card is not a replacement for reporting your card lost or stolen. Contact us immediately at 302-226-9800 or after business hours at 800-500-1044. if you believe that unauthorized transactions have been made. Turning your card off will not stop card transactions presented as recurring transactions or the posting of refunds, reversals, or credit adjustments to your account. Any digital card numbers linked to the card will also be turned off. Turning off a debit card will not stop transactions using other debit cards which are also linked to your deposit account. Availability may be affected by your mobile carrier's coverage area.
Android™ and *iPhone® County Bank Consumer Mobile Banking Apps are available for download.
Data and message rates may apply from your wireless carrier.
Apple, iPad, iPhone and iPod touch are trademarks of Apple Inc., registered in the U.S. and other countries. App Store is a service mark of Apple Inc.
Android is a trademark of Google Inc
Mastercard, and the circle design is a trademark, of Mastercard International Incorporated. ©2020 Mastercard. All rights reserved.